The Geordies work hard and after work they like to have a good time, so fun and relaxation is on the top of the list. This includes football, dancing and drinking ( not always in that order ). We like good music, films and plays, therefore, Newcastle has become a multi-cultural city, and the entertainmet is second to non. From the street venues to the many theartres, there is always something going on.
The weekend sees many from around the country coming to Newcastle to enjoy the night life. Everyone at some time or another heads to the BIGG MARKET "which dates back to 1175 AD", or the QUAYSIDE. This is where you will find scantily clad girls, with the boys trying to impress them by drooling in their drinks. There are many pubs in the town centre, from the quiet and cosy to the lively theme bars.
LIKE TO GO ON A PUB CRAWL START HERE

The Newcastle Centre for Life is a great day out for children of all ages. There are many hands on toys for people of all ages. Set aside a good part of the day to get the most out of it.
The many theatres in Newcastle are the place's to have an enjoyable night out, from Shakespeare to musicals, from serious to comedy. There are many theatres in and around this city to suit all tastes from the elaborate to the cosy, there will be one for you.
Newcastle has many cinemas to cater for the many tastes that the north enjoys. The cinema that holds a special place in many Geordies hearts is the Tyneside Cinema many a good film has been shown here.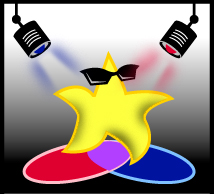 THE BIGG MARKET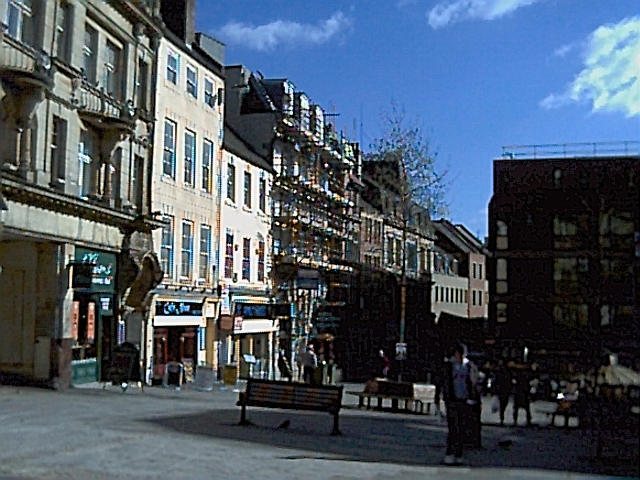 This city is fast becoming something of an arts centre with many new and old gallerys to visit. There have been weird and wacky exibitions as well as many historic. Art is shown from all over the world at Newcastle alongside many local artists.
The music scene is very much alive in Newcastle with lots of places to choose from, you are spoilt for choice. Many famous groups have started out in Newcastle i.e Lindisfarne, Geordie,The Animals as well as singers such as Sting and Brian Johnson. Now there is superb talent doing the circuit, why not make a point of seeing them in one of the many hostelries in and around Newcastle. The two main venues are the Newcastle Arena and the City hall.
If you like the shopping experience, then Newcastle is the place for you. This city has the finest shopping centres in Europe, people even come from abroad to shop here. From the covered in malls to the open-air markets, this is the place to shop.
NORTHUMBERLAND STREET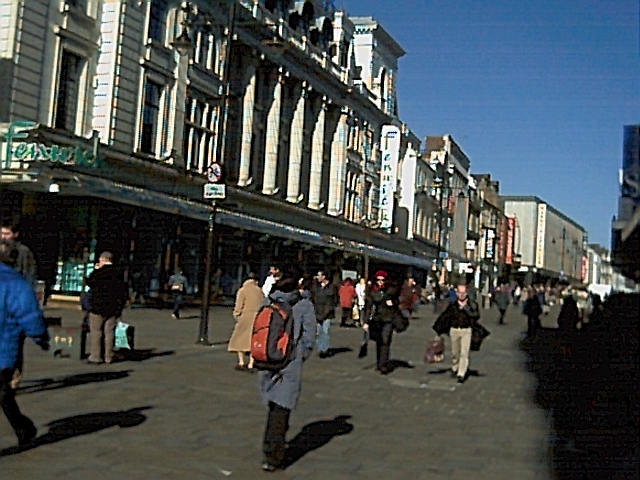 Traffic free shopping